Wendy Fassberg brings to the mediation arena many years of practical experience as a litigator, as a transactional practitioner, and as a real estate professional.
"A myriad of experiences, both personal and professional, have led me to the conclusion that mediation is an extremely valuable tool in the modern legal and business environment, and I am proud to be able to make a significant contribution to the field.
Mediation can be critical to a mutually advantageous and satisfactory resolution of disputes. While some cases need to be tried, most should be settled. If parties engage in an effective dispute resolution process in the early stages of their dispute, many life altering consequences that often accompany litigation can be averted. I have experienced firsthand, both as a mediator and as a participant, what a powerful tool mediation can be to ensure that parties to virtually every type of dispute can reach a solution that, in most cases, is better for all concerned than entrusting their fates to an outside arbiter. My nature is that of a problem solver and a facilitator, and I use these innate qualities along with my experience and my open and welcoming, but forthright style to help guide parties in their quest to resolve their disputes."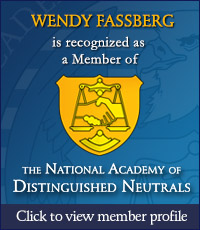 To begin the process of trying to resolve your dispute, contact Wendy Fassberg at 818-222-5025 or by email at wfassberg@fassbergmediation.com, or you can submit the online Intake Form via the tab at the top of this page.  I will be happy to speak with you regarding any questions that you may have regarding mediation. If all parties have agreed to mediate, we can discuss the scheduling of your mediation.  ONLINE VIDEO CONFERENCE MEDIATION AVAILABLE.